Our Corporate Values
GREEN ENERGY PROJECTS
We are one of well established evolve and flourish in the field of Non-conventional / Renewable energy and Bio-fuel. We have set upof Biomass Briquetting Plat at Yavatmal Location of Existing Plant - Village: Ramnagar, Taluka: Digras, Dist: Yavatmal Location of Propose Plant – MIDC Mahad, Dist: Raigad.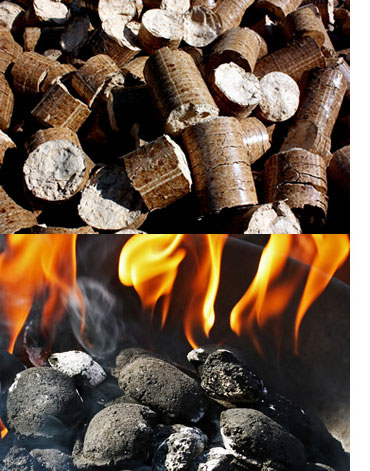 BIOMASS RENEWABLE ENERGY:
Biomass renewable energy can be generated in a number of ways. Agricultural waste, industrial waste and forestry waste gathered and squashed under high pressure but without any binder so it is known as binder less technology. The Biomass Briquetting machineis the only way through which can make solid fuels.

WHY SHOULD WE INCREASE THE USE OF RENEWABLE ENERGY?
We all know that global warming, greenhouse effect and erosion of the soil increase due to pollution increase. After independence many industries are established, national growth also increase but with that pollution also increase due to industrial mechanical process. So Biomass Briquettes are best alternative to put in practice so that we can control the pollution and avoid many problems which are facing right now.

Protect our environment and public health by decreasing emission that cause of fog, acid rain, and global warming. So it is our duty to save future of energy with Biomass Briquette Plant.

INTRODUCTION
We are one of the most promising Finished Industrial Biomass Briquettes offered by us are one of the better type of renewable energy sources that can be used for various Industrial purpose. Briquettes are ready substitutes of Lignite/Coal/Wood in industrial boiler and brick kiln for thermal application. Biomass briquettes are Non- Conventional source of energy, Eco-friendly, Non-polluting and economical in nature. It's made Briquettesthrough binder less technique without use of any type of chemical so it is 100% natural. Briquettes have high specific density (1200kg/m3) compared to 60 to 180 kg/m3 of loose biomass. These can be withstanding the stocks of long distance transport, loading/unloading and transportation costs are much less, and storage requirement is drastically reduced. Compared to fire wood or loose biomass, briquettes give much higher boiler efficiency because of low moisture and higher density.

All these products are processed in a very hygienic condition using agricultural and forestry waste. This finished goods are very high calorific value and very low in ash contents. We are providing better quality and proper packing so as to ensure that it's deliver to safely at our customer's.

We are offer exclusive quality pretreated briquettes. Our briquettes are highly admired by our customer for its excellent quality. This has enabled us in procuring large number of customer all over the nation. The industrial grade Briquettes supplied by us have a wide application in various industries for their respective industrial purposes. Widely acclaimed for excellent quality, these Industrial Briquettes are surely the best choice available in the markets.